Meet Our Executive Leadership Team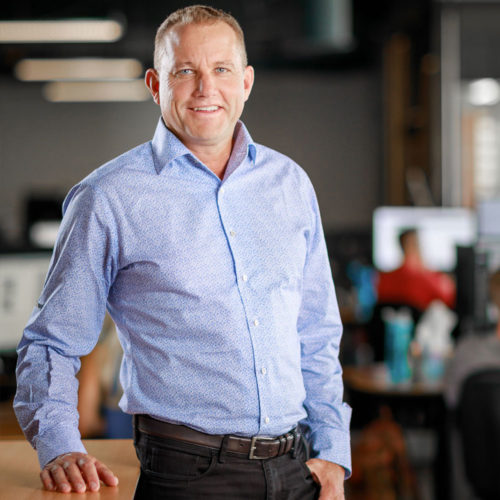 In 2000, Duane Andrews founded REONetwork.com with the purpose of helping REO asset managers efficiently connect with real estate professionals. Two decades later, that people-centric focus has built Clear Capital into a leadership position in valuations, real estate analytics, and innovative platform services.
As CEO of Clear Capital, Duane works alongside 1,400 dedicated "nice people" to provide valuable services for nearly all of the top 100 U.S. lenders and nearly every mortgage investor — including the GSEs — while exceeding $200 million in annual revenue.
Duane earned a bachelor's degree from Biola University and an MBA in real estate finance from the University of Southern California. He obtained his CPA certificate while working at KPMG. He and his wife, Becky, live in Incline Village, Nevada on the shore of Lake Tahoe. Duane enjoys golf, skiing, auto racing, and triathlons.
(Click anywhere to return to all leadership profiles)
Don't be surprised if you see her chasing fresh powder on the heaviest of snow days, hiking an uncharted mountain trail, or wrangling crocodiles on safari — when she's outside, she's right at home. Sheila's more than 20 years of executive experience leading human resources and culture efforts at Fortune 500 and emerging companies alike has made her adept at fostering the growth of a company's most valuable asset: its people. Her work acts as the connective tissue between all the different parts of our company, ensuring we're living to our values and bettering our culture by doing so. Earlier in her career, Sheila led human resources and culture efforts at multiple companies, including Glu Mobile, Practice Fusion and CBS Interactive.
(Click anywhere to return to all leadership profiles)
Chief Information Officer
As Chief Administrative Officer and General Counsel, Helge Hukari leads the company's compliance department, as well as oversees all legal matters, including corporate governance, intellectual property, litigation, privacy and regulatory affairs. Additionally, he is responsible for ensuring that Clear Capital continues to grow within the industry while adhering to regulatory rules and compliance guidelines.
(Click anywhere to return to all leadership profiles)
As CFO, Ron oversees the accounting, financial planning and analysis, treasury and tax functions at Clear Capital. He delivers timely and optimal answers for the company's customers, teams and leadership, while instilling confidence and clarity in their daily and long term decision making.
(Click anywhere to return to all leadership profiles)
As Executive Vice President of Engineering, Mei leads Clear Capital's engineering team – keeping the business on the cutting edge of innovation to improve the lives of lenders, appraisers, and homebuyers alike.
Mei's impressive 20-year track record has made her adept at leading global engineering teams that deliver top-tier solutions across a variety of industries. Prior to joining the Clear Capital team, Mei honed her skills at companies like Punchh, Shopify, Office Depot, Motorola, and others. Mei's passion for creating equality and inclusion that empowers women in technology is essential in her leadership philosophy. Mei has a Master's degree and pursued a PhD in computer science at Florida Atlantic University. She is also an Amazon Web Services(AWS) certified Solutions Architect Professional and Cloud Practitioner.
When she's not in the office, you can find Mei spending time with her daughter, out hiking, swimming, and reading books about medicine and healthcare.

Kenon's background in technology, music, and consulting has led to a unique career infusing creativity and passion into solving challenging business problems. His curiosity and entrepreneurial focus on intuitive, people-friendly solutions have brought financial technology to market that has transformed the valuation space.
As head of corporate strategy, Kenon sits at the intersection of our executive, product, marketing, and sales teams, guiding our growth and ensuring we deliver consistent and long-term value to our customers and partners. Since the beginning of Clear Capital, Kenon has developed and launched some of our most forward-looking solutions, including ClearProp and ClearCollateral.
After honing his engineering and tech leadership skills in San Francisco as a director of technology for Roundpeg, Kenon was introduced to the mortgage industry in the early 2000s leading tech projects for a large lender. Clear Capital's unique culture and growth have provided the perfect opportunity to continue to create a greater impact within fintech and proptech alike.
(Click anywhere to return to all leadership profiles)
Since joining Clear Capital in 2002, Luke's primary focus has been maintaining the company's industry-leading 100 percent completion rate for customer orders—an achievement that sets precedent for the standard of quality company-wide. In his role, Luke has designed and built highly intuitive processes and infrastructures supporting Clear Capital's broad set of valuation products and services. He is well-known for consistently delivering the highest standard of customer service.
(Click anywhere to return to all leadership profiles)
Leading Clear Capital's appraisal process, Jeff Allen is focusing on re-engineering how appraisals are manufactured and modernizing the valuation industry. Jeff leads internal teams in the development of analytics and data aggregation tools aimed at increasing quality and efficiency around appraisal reports, as well as vetting emerging technology from outside the sector. Previously, Jeff worked with CoreLogic and RELS Valuation in varying senior leadership positions.
(Click anywhere to return to all leadership profiles)
Kevin's career in the mortgage industry began when he started his own company in college, working as an appraiser, mortgage broker, and real estate broker. Since then, his leadership and more than 40 years of work in the industry has created value at some of the largest mortgage lenders and servicers, credit unions, and valuation providers including PHH Corporation, GMAC Mortgage, Altisource, and Xome.
As head of Clear Capital's Appraisal Services Group (ASG), Kevin ensures we go wherever it leads and do whatever it takes to deliver our storied appraisal and field valuation performance to our customers. He is committed to helping advance the modernization of the appraisal and valuation industry, combining innovation, technology, creative problem-solving, and a great team.
Kevin and his wife have lived in Illinois, Iowa, Texas, Pennsylvania, Missouri and Indiana, and have moved back to California to join our Roseville office. Outside of work, he enjoys golf, reading, hiking, and taking care of their dog, Ella.
Cathy is a proven product management and product marketing leader who excels at organizing chaos, streamlining processes, and mitigating risk. She's led high-performing product teams at startups and Fortune 1000 companies alike, guiding the development of incredible products and ensuring the voice of the customer is at the decision-making forefront.
At Clear Capital, Cathy leads our team of product managers to grow our current offerings and ensure Clear Capital remains on the cutting edge of ways to help its customers. In addition, she works closely alongside our ClearLabs™ division to support the launch of new, innovative products and drive strategic initiatives.
Earlier in her career, Cathy held senior leadership roles at various SaaS and data-driven companies, including Televerde, The Red Flag Group, Wolters Kluwer, The NPD Group, Lotus Development Corporation, and more. She graduated cum laude from Kalamazoo College in Michigan with a degree in econometrics and quantitative economics. Cathy is an avid hiker, power yoga enthusiast, and amateur artist.