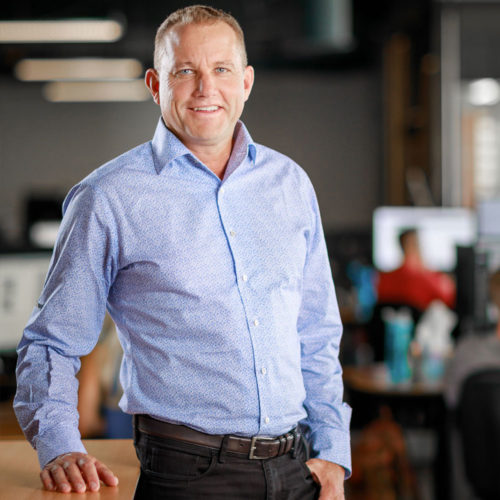 In 2001, Duane Andrews co-founded, created and built Clear Capital with a core focus on helping customers first, which is at the heart of the company's success and also part of Duane's personal mission to inspire and guide others. Not only does this attentive customer-centric mentality drive Clear Capital's partnerships, but it also propels every aspect of its cutting-edge technology solutions.
Return to all leadership >>
Co-founder, Kevin Marshall built Clear Capital on the principle of rejecting status quo and applying a relentless approach to service and product innovation for its customers. With laser focus, he and the organization continually seek-out industry pain points and resolve them by going the extra mile, a value that defines and distinguishes Clear Capital each day.
Return to all leadership >>

As Chief Administrative Officer, Helge Hukari leads the company's human resources, facilities and compliance departments. Additionally, he oversees all legal matters, including corporate governance, intellectual property, litigation, privacy and regulatory affairs. Additionally, he is responsible for ensuring that Clear Capital continues to grow within the industry while adhering to regulatory rules and compliance guidelines.
Return to all leadership >>
Don't be surprised if you see her chasing fresh powder on the heaviest of snow days, hiking an uncharted mountain trail, or wrangling crocodiles on safari — when she's outside, she's right at home. Sheila's more than 20 years of executive experience leading human resources and culture efforts at Fortune 500 and emerging companies alike has made her adept at fostering the growth of a company's most valuable asset: its people. Her work acts as the connective tissue between all the different parts of our company, ensuring we're living to our values and bettering our culture by doing so. Earlier in her career, Sheila led human resources and culture efforts at multiple companies, including Glu Mobile, Practice Fusion and CBS Interactive.
Joining Clear Capital in 2016, Larry is responsible for the strategic direction of Clear Capital's business solutions and technological direction. In this role, Larry is focused on the development and deployment of next-generation Clear Capital technologies that will produce new product innovation and increased organizational performance. Larry's experience and expansive knowledge make him a highly sought after industry expert.
Return to all leadership >>
He's an award-winning musician with five albums to his name, but Kenon is equally as comfortable leading the boardroom as he is rocking out in the studio. His inquisitive mind and passion for intuitive, people-friendly solutions have brought technology to market that solves some of the financial industry's hardest problems. Kenon sits at the intersection of our executive, product, operations, and sales teams, guiding our growth and ensuring we deliver consistent and long-term value to our customers and partners. He also serves as our interim head of marketing. In his 15 years at Clear Capital, Kenon has developed and launched some of our most revolutionary solutions, including ClearProp and ClearCollateral. Earlier in his career, he led technology development and provided disaster recovery planning for web-based training and financial planning companies.
Return to all leadership >>
As CFO, Ron oversees the accounting, financial planning and analysis, treasury and tax functions at Clear Capital. He delivers timely and optimal answers for the company's customers, teams and leadership, while instilling confidence and clarity in their daily and long term decision making.
Return to all leadership >>
Since joining Clear Capital in 2002, Luke's primary focus has been maintaining the company's industry-leading 100 percent completion rate for customer orders—an achievement that sets precedent for the standard of quality company-wide. In his role, Luke has designed and built highly intuitive processes and infrastructures supporting Clear Capital's broad set of valuation products and services. He is well-known for consistently delivering the highest standard of customer service.
Return to all leadership >>
Tim oversees the Clear Capital appraisal department and ensures that customers are provided with the highest quality appraisals and exemplary customer service. With 25 years of appraisal experience and expansive industry and regulatory knowledge, Tim is driving Clear Capital into the next generation of appraisal management.
Return to all leadership >>

Leading Clear Capital's appraisal process, Jeff Allen is focusing on re-engineering how appraisals are manufactured and modernizing the valuation industry. Jeff leads internal teams in the development of analytics and data aggregation tools aimed at increasing quality and efficiency around appraisal reports, as well as vetting emerging technology from outside the sector. Previously, Jeff worked with CoreLogic and RELS Valuation in varying senior leadership positions.
Return to all leadership >>
Simon brings more than 25 years experience building and managing world-class sales, operations and services organizations. Simon is responsible for driving our go-to-market strategy and delivering sustainable revenue growth by ensuring the long-term success of our customers. He will lead our investment in a new Sales Center of Excellence, a comprehensive program to enable salespeople to become domain experts in the mortgage industry and secondary markets.
Return to all leadership >>
At Clear Capital, Sarah is responsible for attracting and retaining top talent, as well as overseeing compensation, benefits, training and employee and labor relations for the company. In addition, she is responsible for driving a culture of service and innovation and developing strategies to attract and retain world-class talent, while continuing to deepen Clear Capital's high-performance environment.
Return to all leadership >>
Val's love of puzzles and mystery novels might explain her talent for solving the most intricate compliance issues. It could also be her more than 20 years of experience leading teams at billion-dollar companies. Val heads Clear Capital's operational compliance efforts, including risk assessment, complaint due diligence, regulatory audits and filings and maintaining relationships with government and regulatory bodies. Her work ensures Clear Capital — and its partners' — success in an ever-changing regulatory environment. Earlier in her career, Val led teams in finance, mergers and acquisitions and enterprise risk at some of the world's largest financial institutions. She's a licensed appraiser in Nevada and Washington.
Return to all leadership >>
When he's not catching the latest box office hit with his family, he's navigating the legal landscape of a trillion-dollar industry for Clear Capital. Cherner is responsible for supporting our legal affairs, including contract negotiation and execution, risk mitigation and government relations efforts. His work ensures Clear Capital succeeds in a highly regulated and complex environment. Earlier in his career, in addition to serving as the chief compliance officer of a national financial services company, Cherner directed compliance efforts at a national appraisal management company, where he worked with valuation regulators and stakeholders to influence the valuation legal landscape.
Return to all leadership >>
Since joining Clear Capital in 2016, Chris is responsible for overseeing appraisal quality strategy and leading all appraisal quality assurance teams that are responsible for delivering highly credible valuation products to its customers. His understanding of how lenders rely heavily on appraisers to provide them with certainty and clarity to make prudent decisions coupled with his belief in constant evolution and progress, while rejecting the status quo make him a recognizable asset among his peers and within the organization.
Return to all leadership >>