Clarity and Confidence Around Multiple Value Opinions: Value Reconciliations
For clarity and confidence, you need a single source of truth that resolves all conflicting data points and provides a final ruling on the subject property's valuation. Our intuitive reports simplify your next actions by giving an experienced appraiser the ability to provide a clearly visible reconciled valuation conclusion and variance from the original report. The appraiser can also provide a detailed narrative to support the value points.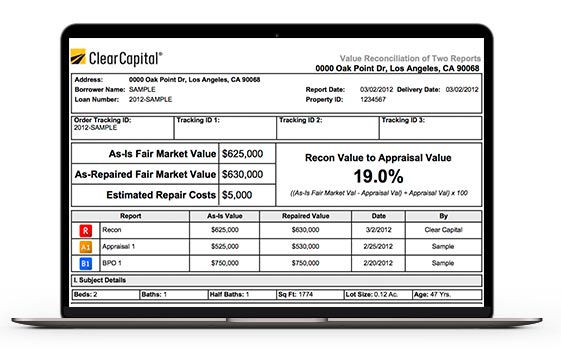 Why Clear Capital Value Reconciliations?
Most loan servicers and capital markets investors simply don't have the resources to perform reconciliation. Even the ones that do often need an additional layer of quality assurance and analysis on existing valuation reports. It is, in fact, one of the most vital steps in the investment process. Value Reconciliations delivered by Clear Capital are also well-suited for times when specific loans within a pool are identified as risky and you need to make heads or tails of the conflicting market data.
What Do Clear Capital Value Reconciliations Provide?
Value reconciliations also bring uniformity, clarity and confidence to the reconciliation process.
Are Value Reconciliations Right for Me?
It all comes down to peace of mind provided quickly and efficiently by value reconciliations.
Capital market participants
A Clear Capital team member will contact you within one business day.